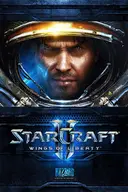 StarCraft II
Prize Money Awarded:
$30,959,544.54
From 5526 Tournaments
Recorded Date Range:
2010-02-28 to
StarCraft II (abbreviated as SC2) is a military science fiction real-time strategy game developed and released by Blizzard Entertainment for Microsoft Windows and Mac OS X. A sequel to the award-winning 1998 video game StarCraft and its expansions, the game was released worldwide on July 27, 2010. It is split into three installments: the base game with the subtitle Wings of Liberty, and two expansion packs, Heart of the Swarm and Legacy of the Void.
Set in the 26th century in a distant part of the Milky Way galaxy, the game revolves around three species: the Terrans, human exiles from Earth; the Zerg, a super-species of assimilated life forms; and the Protoss, a technologically advanced species with vast mental powers. Wings of Liberty focuses on the Terrans, while the expansions Heart of the Swarm and Legacy of the Void will focus on the Zerg and Protoss, respectively.
As with StarCraft: Brood War, the best StarCraft II players are predominantly Korean players. There have been notable non-Korean players (referred to as "foreigners") that could stand toe-to-toe with Koreans, such as NaNiwa, Stephano, HuK and Scarlett. Many StarCraft II players transitioned from older real-time strategy games, including WarCraft III and Command & Conquer.
The StarCraft II World Championship Series is Blizzard's own league for the game. It is separated into three distinct regions around the world. WCS points are awarded to each region, as well as WCS-partnered events. The top 16 players with the most points qualify for the Global Finals at Blizzcon, where they compete for a $250,000 cash prize pool.