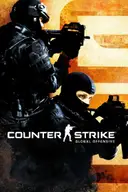 Counter-Strike: Global Offensive
Prize Money Awarded:
$79,469,619.87
From 4142 Tournaments
Recorded Date Range:
2012-03-13 to
Counter-Strike: Global Offensive (abbreviated as CS:GO) is a tactical first-person shooter developed by Valve Corporation and Hidden Path Entertainment, who also maintained Counter-Strike: Source after its release. It is the fourth game in the main Counter-Strike franchise. Counter-Strike pits a team of counter-terrorists against a team of terrorists in a series of rounds. Each round is won by either completing the mission objective or eliminating the opposing force.
For the first year of its release, CS:GO was criticized for being what amounts to "Counter-Strike: Source with better visuals". The initial hype died off fairly quickly, with many players returning to Counter-Strike 1.6 or Source where they were more comfortable. But after receiving more than 60 updates to the game that featured major gameplay tweaks and new maps and features, the Counter-Strike community made their permanent transition to CS:GO.
Valve has been criticized about the lack of prize money in the majors they sponsor, with the CS:GO prizes capped at $250,000. The criticism is due to Valve's support of their other competitive game, Dota 2, with their annual multi-million dollar cash prize tournament "The International" able to grow the prize pool via crowd-funding. On March 29, 2016, CS:GO had their first $1 million tournament at the MLG Major Championship in Columbus, Ohio.
At the 2016 eSports Industry Awards, CS:GO was named "eSports Game of the Year".
Like with Counter-Strike 1.6, many of the best CS:GO players are centered around Europe, with Swedish teams like fnatic and Ninjas in Pyjamas being the most dominant at the game.