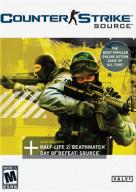 Counter-Strike: Source
Prize Money Awarded:
$3,110,369.45
From 330 Tournaments
Recorded Date Range:
2005-02-05 to
Counter-Strike: Source (shortened to CS:S or simply referred to as Source) is a tactical first-person shooter developed by Valve Corporation and Turtle Rock Studios, based on the Half-Life mod-turned-retail game Half-Life: Counter-Strike. It was released together with Half-Life 2 to debut the Source engine, as implied by its title. The game pits a team of counter-terrorists against a team of terrorists in a series of rounds. Each round is won by either completing the mission objective or eliminating the opposing force.
Upon release of the game, Counter-Strike: Source was criticized for its larger hit boxes, random spray patterns and physics, lowering the skill cap and making it an easier game to play. Many players chose to continue playing Counter-Strike 1.6 and much of the competitive Counter-Strike scene revolved around that, but Counter-Strike: Source had its own following, albeit on a much smaller scale. When Counter-Strike: Global Offensive was released, the Source community transitioned immediately to the new game.