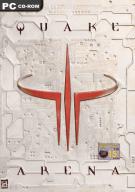 Quake III Arena
Prize Money Awarded:
$1,137,832.19
From 100 Tournaments
Recorded Date Range:
1999-09-09 to
Quake III Arena (also known as Quake 3; abbreviated as Q3A or Q3), is a multiplayer first-person shooter video game released on December 2, 1999. The game was developed by id Software and featured music composed by Sonic Mayhem and Front Line Assembly. Quake III Arena is the third in the series and differs from previous games by excluding a traditional single-player element and focusing on multi-player action. Notable features of Quake 3 include the minimalist design, lacking rarely used items and features, the extensive customizability of player settings such as field of view, texture detail and enemy model, and advanced movement features such as strafe-jumping, rocket-jumping and plasma-climbing.
Quake III Arena's multiplayer-focused development led to it developing a large community of competitive players and like its predecessors it was used extensively in professional tournaments. In competitive Quake III Arena there are two distinct gameplays, often referred to as 'rulesets', the out-of-the-box Quake III Arena game, also known as vanilla Quake 3 (VQ3), and the CPM ruleset of the Challenge Pro Mode Arena mod. Using CRT monitors of the time, the game is played at 125fps. The best Quake III Arena players mastered the advanced movement features to quickly traverse the map, kept track of multiple item respawn times in their head, and tracked their opponent constantly without being able to see them.