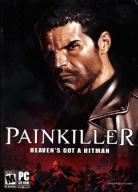 Painkiller
Prize Money Awarded:
$1,015,000.00
From 13 Tournaments
Recorded Date Range:
2004-07-07 to
---
---
Painkiller is a first-person shooter video game developed by Polish game studio People Can Fly and published by DreamCatcher Interactive. The game was released on released on April 12, 2004, and is played competitively in a 1v1 duel format.
Painkiller was chosen by the Cyberathlete Professional League to be their official 2005 World Tour game, causing controversy due to other games at the time such as Quake III Arena and Counter-Strike proving themselves to be more popular. The game was dropped at the end of the World Tour.
Largest Prize Pools
|   | Tournament Name | Prize Money |
| --- | --- | --- |
| 1. | » CPL World Tour Finals 2005 | $510,000.00 |
| 2. | » CPL Brazil 2005 (Painkiller) | $50,000.00 |
| 3. | » CPL Chile 2005 (Painkiller) | $50,000.00 |
| 4. | » CPL Italy 2005 | $50,000.00 |
| 5. | » CPL Singapore 2005 (Painkiller) | $50,000.00 |
| 6. | » CPL Spain 2005 (Painkiller) | $50,000.00 |
| 7. | » CPL Summer 2005 (Painkiller) | $50,000.00 |
| 8. | » CPL Sweden 2005 | $50,000.00 |
| 9. | » CPL Turkey 2005 (Painkiller) | $50,000.00 |
| 10. | » CPL UK 2005 (Painkiller) | $50,000.00 |
| 11. | » CPL Summer 2004 (Painkiller) | $25,000.00 |
| 12. | » CPL Winter 2004 (Painkiller) | $20,000.00 |
| 13. | » ESWC 2004 (Painkiller) | $10,000.00 |
Top Players
|   | Player ID | Player Name | Total (Game) |
| --- | --- | --- | --- |
| 1. | Fatal1ty | Johnathan Wendel | $240,550.00 |
| 2. | Vo0 | Sander Kaasjager | $230,500.00 |
| 3. | stermy | Alessandro Avallone | $118,800.00 |
| 4. | ZyZ | Benjamin Bohrmann | $106,950.00 |
| 5. | Ztrider | Alex Ingarv | $73,500.00 |
| 6. | Booms | Vincenzo D'Aurelio | $39,750.00 |
| 7. | gellehsak | Andrew Ryder | $36,200.00 |
| 8. | Stelam | Stephan Lammert | $35,675.00 |
| 9. | wombat | Mark Larsen | $24,875.00 |
| 10. | ForresT | Nicola Geretti | $17,875.00 |
| 11. | Zaccubus | David Treacy | $13,675.00 |
| 12. | LeXeR | Alex Nesterov | $12,150.00 |
| 13. | Daler | Sean Price | $9,100.00 |
| 14. | Zen | Brian Grapatin | $9,000.00 |
| 15. | dj | Carlos Cid | $7,500.00 |
| 16. | GaRpY | Gareth Marshall | $4,375.00 |
| 17. | Aim | Fredrik Edesater | $4,050.00 |
| 18. | cha0ticz | Jared Cugno | $3,750.00 |
| 19. | worre | Viktor Liljeblad | $3,425.00 |
| 20. | wreck | Justin Hayden | $2,000.00 |
| 21. | Siguma | Terabe, Teppei | $1,925.00 |
| 22. | Vicious | Riccardo Zanocchio | $1,800.00 |
| 23. | Beam | Iisakki Ahonen | $1,550.00 |
| 24. | deatz | Christian Dotzki | $1,450.00 |
| 25. | RocketBoy | Yang, Meng | $1,250.00 |
Online/LAN Breakdown
| Location | Prize Money | % of Total |
| --- | --- | --- |
| Online Only | $0.00 | 0.00% |
| Offline/LAN | $1,015,000.00 | 100.00% |
Comparisons
Top Countries
|   | Country Name | Prize Money |
| --- | --- | --- |
| 1. | United States | $299,225.00 |
| 2. | Netherlands | $231,675.00 |
| 3. | Italy | $178,225.00 |
| 4. | Germany | $146,325.00 |
| 5. | Sweden | $82,400.00 |
| 6. | Canada | $37,925.00 |
| 7. | United Kingdom | $18,675.00 |
| 8. | Russian Federation | $12,150.00 |
| 9. | Finland | $2,750.00 |
| 10. | Japan | $1,925.00 |