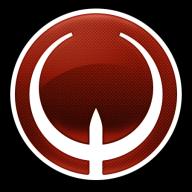 Quake Live
Prize Money Awarded:
$682,294.04
From 410 Tournaments
Recorded Date Range:
2008-07-31 to
Quake Live is a first-person shooter developed by id Software designed to run on x86-based computers running Microsoft Windows, Mac OS X or Linux that is downloaded and launched via a web browser plugin. Quake Live is free to download and play.
In addition to usability changes, Quake Live has a new, more streamlined HUD. The game is also censored to remove blood, gore, and satanic references that were found in Quake III Arena and is the only game in the series that was developed by id Software internally to be rated T by the ESRB.
On August 27, 2014, Quake Live saw what was its biggest update since the game's initial release in 2010. The purpose of the update was to make the game more accessible to new players with emphasis on the game's spawning system, movement and item control. The update was heavily criticized for its addition of loadouts; seen as an element of "consolization" that eliminate the strategic depth of weapon and item control.
On October 28, 2015, a major update was released, consisting of code updates, optimizations, and map fixes. As part of the update, Quake Live also switched from its own in-house account system to using the Steamworks API, though due to these changes, all user statistics were reset.