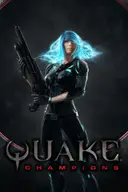 Quake Champions
Prize Money Awarded:
$3,506,250.52
From 283 Tournaments
Recorded Date Range:
2017-06-18 to
---
---
Quake Champions is an arena first-person shooter developed by id Software and published by Bethesda Softworks. It is the successor to Quake Live for competitive play. The game features a large quantity of playable characters (aptly called "Champions"), with each having access to one or more passive abilities, and one active ability.
Top Players
|   | Player ID | Player Name | Total (Game) |
| --- | --- | --- | --- |
| 1. | rapha | Shane Hendrixson | $341,888.89 |
| 2. | Clawz | Nikita Marchinsky | $246,100.00 |
| 3. | DaHanG | Tim Fogarty | $220,177.00 |
| 4. | RAISY | Adrián Birgány | $172,947.02 |
| 5. | k1llsen | Marcel Paul | $153,933.01 |
| 6. | Toxjq | Johan Quick | $149,298.14 |
| 7. | Xron | Dmytro Sakharuk | $136,553.04 |
| 8. | av3k | Maciej Krzykowski | $123,587.56 |
| 9. | vengeurR | Marco Ragusa | $116,347.47 |
| 10. | Cooller | Anton Singov | $107,347.85 |
| 11. | Silencep | Kyle Mooren | $95,180.00 |
| 12. | cha1n | Greg Bouevitch | $85,845.32 |
| 13. | Latrommi | Alexander Dolgov | $83,800.00 |
| 14. | Cypher | Alexei Yanushevsky | $77,836.29 |
| 15. | noctis | Richard Gansterer | $76,275.00 |
| 16. | Spart1e | Sebastian Siira | $66,143.60 |
| 17. | Vo0 | Sander Kaasjager | $64,500.00 |
| 18. | ZenAku | David Addati | $61,330.91 |
| 19. | fazz | Pelle Söderman | $59,381.94 |
| 20. | maxter | Maximiliano González | $58,297.25 |
| 21. | baSe | Alexander Rybin | $56,643.69 |
| 22. | GaRpY | Gareth Marshall | $56,559.59 |
| 23. | psygib | Moses Salas | $56,237.68 |
| 24. | nosfa | Filipe Barbosa | $54,057.50 |
| 25. | dramiS | Kyle Simard | $53,326.41 |
Online/LAN Breakdown
| Location | Prize Money | % of Total |
| --- | --- | --- |
| Online Only | $954,403.89 | 27.22% |
| Offline/LAN | $2,551,846.63 | 72.78% |
Comparisons
Top Countries
|   | Country Name | Prize Money |
| --- | --- | --- |
| 1. | United States | $979,210.15 |
| 2. | Belarus | $323,936.29 |
| 3. | Sweden | $278,937.43 |
| 4. | Russian Federation | $262,429.38 |
| 5. | Hungary | $172,947.02 |
| 6. | Netherlands | $159,685.00 |
| 7. | Italy | $155,847.47 |
| 8. | Germany | $154,105.37 |
| 9. | Canada | $137,307.74 |
| 10. | Ukraine | $136,553.04 |