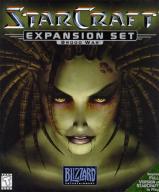 StarCraft: Brood War
Prize Money Awarded:
$8,010,927.13
From 555 Tournaments
Recorded Date Range:
1998-11-12 to
StarCraft: Brood War is the expansion pack for the award winning military science fiction, real-time strategy video game StarCraft. This introduced new campaigns, map tilesets, music, extra units for each race, and upgrade advancements. The campaigns continue the story from where the original StarCraft ended. The expansion was released in the United States on November 30, 1998. Brood War was critically well-received, with reviewers praising it for being developed with the care of a full game rather than as an uninspired extra. As of 2007, StarCraft and Brood War have sold almost ten million copies combined.
After its release, StarCraft, along with its expansion Brood War, rapidly grew in popularity in South Korea, establishing a successful professional gaming scene. StarCraft games are broadcast over three television channels dedicated to the professional gaming scene, and pro-gamers in the country are media celebrities.
Despite the release of WarCraft III, StarCraft was not replaced outright by it for tournament play due to both games having their own unique game mechanics, with StarCraft focusing on macro-management and high actions-per-minute (APM). When referring to this game, it is common to call it by its expansion "Brood War" instead of "StarCraft".