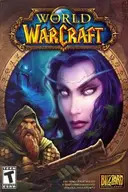 World of WarCraft
Prize Money Awarded:
$4,627,837.61
From 117 Tournaments
Recorded Date Range:
2007-04-28 to
World of WarCraft is a massively multiplayer online role-playing game (MMORPG) by Blizzard Entertainment. It is the fourth released game set in the fantasy WarCraft universe, which was first introduced by WarCraft: Orcs & Humans in 1994. World of WarCraft takes place within the WarCraft world of Azeroth, approximately four years after the events at the conclusion of Blizzard's previous WarCraft release, WarCraft III: The Frozen Throne. Blizzard Entertainment announced World of WarCraft on September 2, 2001. The game was released on November 23, 2004, on the 10th anniversary of the WarCraft franchise.