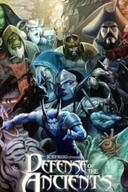 Defense of the Ancients
Prize Money Awarded:
$857,420.65
From 94 Tournaments
Recorded Date Range:
2005-08-20 to
---
---
Defense of the Ancients (commonly known as DotA) is a mod for the real-time strategy game WarCraft III: Reign of Chaos and its expansion, WarCraft III: The Frozen Throne, based on the "Aeon of Strife" map for StarCraft: Brood War. The objective of the scenario is for each team to destroy the opponents' Ancients, heavily guarded structures at opposing corners of the map. Players use powerful units known as heroes, and are assisted by allied heroes and AI-controlled fighters. As in role-playing games, players level up their heroes and use gold to buy equipment during the mission.
The mod (referred to as a "custom map") was developed with the "World Editor" of Reign of Chaos, and was updated upon the release of its expansion, The Frozen Throne. There have been many variations of the original concept; the most popular being Defense of the Ancients: All-stars, which eventually was simplified to DotA with the release of version 6.68. This specific scenario has been maintained by several authors during development, the latest of whom being the anonymous developer known as "IceFrog" developing the game since 2005.
The popularity of the mod led to the rise of the MOBA genre, and the development of stand-alone versions, with the most popular games being Heroes of Newerth, League of Legends, and Dota 2.
Top Players
|   | Player ID | Player Name | Total (Game) |
| --- | --- | --- | --- |
| 1. | Zhou | Chen, Yao | $31,619.67 |
| 2. | BurNIng | Xu, Zhilei | $30,729.14 |
| 3. | ChuaN | Wong, Hock Chuan | $26,933.40 |
| 4. | LongDD | Huang, Xiang | $26,154.86 |
| 5. | YYF | Jiang, Cen | $26,057.52 |
| 6. | ZippO | Zhou, Xiong | $25,606.87 |
| 7. | Ferrari_430 | Luo, Feichi | $24,002.61 |
| 8. | rOtK | Bai, Fan | $20,185.32 |
| 9. | Super | Xie, Junhao | $20,030.65 |
| 10. | Faith | Zeng, Hongda | $18,576.49 |
| 11. | QQQ | Yao, Yi | $14,307.39 |
| 12. | 820 | Zou, Yitian | $12,707.95 |
| 13. | KingJ | Zhou, Yang | $12,431.49 |
| 14. | MMY! | Lei, Zengrong | $12,329.37 |
| 15. | Banana | Jiao, Wang | $12,037.84 |
| 16. | ZSMJ | Gong, Jian | $10,988.39 |
| 17. | 830 | Ji, Xiaomeng | $10,063.07 |
| 18. | Insence | Bin, He | $9,891.78 |
| 19. | chisbug | Li, Chen | $9,619.95 |
| 20. | SanSheng | Wang, Zhaohui | $8,835.50 |
| 21. | DGC | Chen, Xu | $8,785.97 |
| 22. | DDC | Liang, Fa Ming | $8,127.10 |
| 23. | NS | Yaroslav Kuznetsov | $7,828.58 |
| 24. | xiao8 | Zhang, Ning | $7,440.63 |
| 25. | YaphetS | Bu, Yan Jun | $7,002.80 |
Online/LAN Breakdown
| Location | Prize Money | % of Total |
| --- | --- | --- |
| Online Only | $27,761.97 | 3.24% |
| Offline/LAN | $829,658.68 | 96.76% |
Comparisons
Top Countries
|   | Country Name | Prize Money |
| --- | --- | --- |
| 1. | China | $454,766.87 |
| 2. | Russian Federation | $52,678.88 |
| 3. | Malaysia | $43,991.85 |
| 4. | Kazakhstan | $43,830.58 |
| 5. | Philippines | $41,261.10 |
| 6. | Sweden | $23,049.56 |
| 7. | Denmark | $20,440.53 |
| 8. | Singapore | $19,458.38 |
| 9. | Ukraine | $14,202.93 |
| 10. | Kyrgyzstan | $11,281.99 |