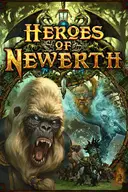 Heroes of Newerth
Prize Money Awarded:
$2,856,206.56
From 368 Tournaments
Recorded Date Range:
2010-04-11 to
Heroes of Newerth (abbreviated as HoN) is a free-to-play science fantasy, action real-time strategy game developed and published by S2 Games. The game was inspired by the popular Defense of the Ancients: All-Stars custom map for WarCraft III.
Heroes of Newerth puts two teams of players against each other: the Legion and the Hellbourne. Both teams are based at opposite sides of a map. The standard map is split into three continuous 'lanes', running from one base to the other. Defensive towers are positioned evenly through each lane, until the lanes terminate at a team's base. Bases are strongly defended with extra defensive towers, and buildings from which units spawn. These units, termed 'creeps' are spawned every thirty seconds, and run along their lane until they meet opposition - which they then attack. Victory is achieved when one of the teams manages to push into the base of the opposing team, and destroys their primary structure.
Of the few games based off of Defense of the Ancients: All-Stars that were successful, Heroes of Newerth is considered to be the least popular, overshadowed by League of Legends and Dota 2.
Heroes of Newerth major league - HoN Tour.