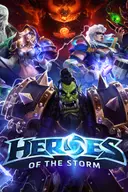 Heroes of the Storm
Prize Money Awarded:
$18,049,717.12
From 453 Tournaments
Recorded Date Range:
2014-09-16 to
Heroes of the Storm (abbreviated as HotS) is a multiplayer online battle arena (MOBA) developed by Blizzard Entertainment. The game features characters from prior Blizzard games including WarCraft, StarCraft, and Diablo, as well as their latest IP Overwatch. Blizzard refers to the game as a "hero brawler" due to its broader play-style that differs from a typical "multiplayer online battle arena" or "action real-time strategy" game like Dota 2 or League of Legends. The game entered closed beta on January 13, 2015, and the full version of the game was released on June 2, 2015.
Heroes of the Storm was originally titled "Blizzard DOTA" and later changed to "Blizzard All-Stars" before changing to its final name. It also lead to confusion with the StarCraft II expansion "Heart of the Swarm" sharing the same acronym of "HotS".
Many of the best Heroes of the Storm players previously competed in other Blizzard titles such as StarCraft II and Hearthstone. The players usually had less than stellar results in those games, and their awarded cash prize numbers were low.