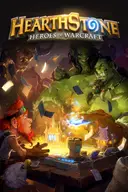 Hearthstone
Prize Money Awarded:
$17,411,148.07
From 834 Tournaments
Recorded Date Range:
2013-10-19 to
Hearthstone, originally Hearthstone: Heroes of Warcraft, is a free-to-play digital collectible card game from Blizzard Entertainment. It revolves around turn-based matches between two opponents, operated through Blizzard's Battle.net service. Players can choose from a number of game modes, with each offering a slightly different experience.
Hearthstone is supported by booster packs, Arena Mode entries, Adventure Mode wing access and alternate hero skins. Unlike other card games, Hearthstone does not use a trading card system and instead allows players to 'disenchant' unwanted cards into 'arcane dust' resource, which can then be used to 'craft' new cards of the player's choice.
Despite the focus on accessibility and fast-paced gameplay, Hearthstone tournaments has been hosted at numerous events around the world, including those hosted by MLG and ESL. Blizzard hosts their own annual "Hearthstone World Championship", where the best Hearthstone players around the world fight for the chance to compete in the Global Finals at BlizzCon.