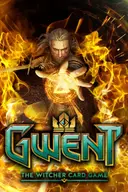 Gwent
Prize Money Awarded:
$669,557.17
From 106 Tournaments
Recorded Date Range:
2017-03-25 to
Gwent: The Witcher Card Game is an upcoming free-to-play collectible card game developed by CD Projekt RED. The game is derived from the card game of the same name featured in Andrzej Sapkowski's The Witcher novels and playable in The Witcher 3: Wild Hunt video game. The Closed Beta was released in October 2016, and Open Beta in May 2017.
Gwent is a turn-based card game between two players, each player must play one card each turn from a deck of twenty-five to forty cards with a faction that offers different play styles and unique abilities. The goal is to win two out of three rounds by playing cards and spells to gain strength on the board. Winning a round rewards the player with either ores, scraps or cards. Players can gain additional cards by buying kegs with ores or through microtransactions, each keg contains five cards. Cards can also be crafted with scraps.
In 2017 GWENT MASTERS were announced - the official esports series of Gwent: The Witcher Card Game organized by CD Projekt RED. It contains numerous tournaments with overall prize pool of $850,000 with it's climax at GWENT World Masters.