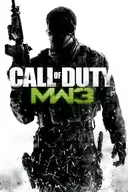 Call of Duty: Modern Warfare 3
Prize Money Awarded:
$1,160,815.66
From 45 Tournaments
Recorded Date Range:
2011-09-02 to
---
---
Call of Duty: Modern Warfare 3 (abbreviated as COD: MW3) is a 2011 first-person shooter developed by Infinity Ward and Sledgehammer Games, and published by Activision. It was released for Microsoft Windows, the Xbox 360, PlayStation 3, and Wii on November 8, 2011. It is the third installment in the Modern Warfare saga, a direct sequel to 2009's Call of Duty: Modern Warfare 2, and the eighth Call of Duty installment. It is succeeded by Call of Duty: Black Ops 2 in competitive Call of Duty esports.
Competitive Call of Duty had their first million-dollar cash prize tournament with Call of Duty XP before the game launched, but lacking the tools necessary to run LAN events properly and poor overall support from the developers, there were few opportunities for professional Call of Duty players to compete. Major League Gaming, the biggest console gaming league in North America, decided not to add the game to the pro circuit, and many of the best Call of Duty players decided to take the year off. Europe had a much bigger presence in Call of Duty: Modern Warfare 3, albeit still a smaller scale than that of its predecessor. The European Gaming League hosted several tournaments for the game, with a handful of American teams competing.
Largest Prize Pools
|   | Tournament Name | Prize Money |
| --- | --- | --- |
| 1. | Call of Duty XP | $1,000,000.00 |
| 2. | Play N Trade $25K MW3 FFA 2012 | $25,000.00 |
| 3. | » EGL 8 - Manchester (CoD:MW3) | $12,856.40 |
| 4. | » EGL 5 (CoD:MW3 X360) | $12,700.80 |
| 5. | » EGL 7 - Blackpool (CoD:MW3) | $10,950.45 |
| 6. | Call of Duty Elite/Friday Night Fights/Season 3 | $10,000.00 |
| 7. | Machinima Frag Cup III | $10,000.00 |
| 8. | » DreamHack Valencia 2012 (CoD:MW3) | $6,488.01 |
| 9. | » LVP - Season 2: Final Cup (CoD:MW3) | $6,344.64 |
| 10. | UGC Niagra 2012 | $6,000.00 |
| 11. | » LVP - Season 3: Final Cup (CoD:MW3) | $5,935.84 |
| 12. | » i46 (CoD:MW3) | $5,535.72 |
| 13. | UMG Championships 2012 | $4,400.00 |
| 14. | » ReflexGT 7 (CoD:MW3) | $3,879.60 |
| 15. | » UMG Classic: Chicago 2012 | $3,200.00 |
| 16. | UMG Invitational 2012 | $3,200.00 |
| 17. | » i45 (CoD:MW3) | $3,101.28 |
| 18. | » EGL 5 (CoD:MW3 PS3) | $3,056.13 |
| 19. | » ReflexGT 6 (CoD:MW3) | $3,035.34 |
| 20. | 360icons Farewell MW3 | $2,500.00 |
| 21. | Game Pazzo Lantastic MW3 Lan | $2,500.00 |
| 22. | UMG Fort Lee 2012 | $2,400.00 |
| 23. | » ReflexGT 8 (CoD:MW3) | $2,099.52 |
| 24. | » ACLPro 2012: Gold Coast (CoD:MW3) | $2,096.60 |
| 25. | » ACLPro 2012: Sydney (CoD:MW3) | $2,076.80 |
Top Players
|   | Player ID | Player Name | Total (Game) |
| --- | --- | --- | --- |
| 1. | MerK | Joseph DeLuca | $107,484.30 |
| 2. | BigTymer | William Johnson | $105,984.30 |
| 3. | Nadeshot | Matthew Haag | $103,575.00 |
| 4. | Vengeance | Blake Campbell | $100,000.00 |
| 5. | Gunshy | Thomas Jones | $51,981.48 |
| 6. | XLNC | Nicholas Ward | $51,104.35 |
| 7. | FerLuff | William Freestone | $50,000.00 |
| 8. | rRSoul | Carl Price | $50,000.00 |
| 9. | Killa | Adam Sloss | $31,434.47 |
| 10. | eGo | Paula Megna | $30,000.00 |
| 11. | RJ | Robert O'Neill | $30,000.00 |
| 12. | TeRRoR | Joseph Walega | $30,000.00 |
| 13. | Swanny | Callum Swan | $27,243.92 |
| 14. | ShAnE | Shane McKerral | $26,375.88 |
| 15. | Burns | Matthew Potthoff | $25,000.00 |
| 16. | Pacino | Sam Walley | $25,000.00 |
| 17. | richE | Richie Atkins | $25,000.00 |
| 18. | Tommey | Thomas Trewren | $19,800.27 |
| 19. | Blackk | Ellis Strouthos | $19,490.53 |
| 20. | Riddlez | Zak Talis | $18,726.83 |
| 21. | Crookz | Jack Anderson-Crook | $17,564.66 |
| 22. | BreeZy | Michael Gaetano | $12,500.00 |
| 23. | Clayster | James Eubanks | $12,500.00 |
| 24. | Epi | Jordan Nickopoulos | $12,500.00 |
| 25. | TriZy | Brandon Ferraro | $12,500.00 |
Online/LAN Breakdown
| Location | Prize Money | % of Total |
| --- | --- | --- |
| Online Only | $15,860.00 | 1.37% |
| Offline/LAN | $1,144,955.66 | 98.63% |
Comparisons
| | |
| --- | --- |
| » Call of Duty: Black Ops 4 | -$5,574,123.29 |
| » Call of Duty: WWII | -$3,417,205.34 |
| » Call of Duty: Infinite Warfare | -$3,005,889.40 |
| » Counter-Strike: Source | -$1,952,406.63 |
| » Call of Duty: Advanced Warfare | -$1,450,993.27 |
| » Call of Duty: Ghosts | -$433,369.59 |
| » Call of Duty: Black Ops 2 | -$318,323.59 |
| » Halo: Reach | +$388,725.69 |