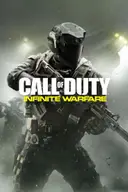 Call of Duty: Infinite Warfare
Prize Money Awarded:
$4,151,666.26
From 75 Tournaments
Recorded Date Range:
2016-12-03 to
Call of Duty: Infinite Warfare (abbreviated as COD: IW) is a first-person shooter developed by Infinity Ward and published by Activision. It is the twelfth primary installment in the Call of Duty series. The game was released for Microsoft Windows, PlayStation 4, and Xbox One on November 4, 2016. It replaces Call of Duty: Black Ops III as the competitive Call of Duty game for the 2016-2017 Call of Duty esports season, and is succeeded by Call of Duty: World War II.
Since Call of Duty: Infinite Warfare takes place in outer space and offers zero-gravity environments, new gameplay mechanics were implemented. Players are equipped with a boost pack and a grappling hook, which allow players to move in these zero-gravity environments easily. Players can travel to different planets, satellites and asteroids in the solar system.
The Call of Duty World League Championship (or CoD Champs for short) is Activision's 5th annual Call of Duty Championship tournament for the competitive scene, the largest tournament in CoD esports. It is the final tournament of the Call of Duty World League, where the best Call of Duty players from around the world converge and compete against each other. The 2017 edition saw OpTic Gaming crowned the champions, with a roster of Crimsix, FormaL, Karma and Scump.