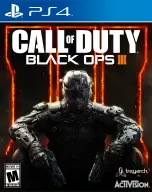 Call of Duty: Black Ops III
Prize Money Awarded:
$3,836,654.41
From 74 Tournaments
Recorded Date Range:
2015-11-14 to
Call of Duty: Black Ops III (abbreviated as COD: BO3, or sometimes COD: BlOps3) is a first-person shooter developed by Treyarch and published by Activision. The game is a sequel to the 2012 game Call of Duty: Black Ops II, released on PC, PlayStation 4, and Xbox One on November 6, 2015. A feature-limited version that only supports multiplayer modes will be released on PlayStation 3 and Xbox 360. It replaces Call of Duty: Advanced Warfare as the competitive Call of Duty game, and will be succeeded by Call of Duty: Infinite Warfare.
ESL announced they had partnered with Activision to create the Call of Duty World League for the Call of Duty: Black Ops III season in 2016. This league spread $1.2 million across 3 regions, split between 2 stages leading up to the Call of Duty XP Championship at the end of the season.