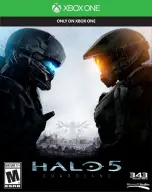 Halo 5: Guardians
Prize Money Awarded:
$7,071,480.97
From 75 Tournaments
Recorded Date Range:
2015-08-07 to
Halo 5: Guardians is a first-person shooter developed by 343 Industries and published by Microsoft Studios for the Xbox One. It is the direct sequel to Halo 4 and replaces Halo 2 Anniversary as the competitive Halo game. The game was released on October 27, 2015.
In response to the presence of Activision's Call of Duty series in console esports, Microsoft announced the Halo World Championship with $1 million in cash prizes. With the emphasis on Halo 5's Arena multiplayer mode, Microsoft is hoping to attract the best Halo players and more interest in the competitive Halo scene, but the game itself isn't without it's problems. On March 13, 2016, a Halo charity tournament run by Gamers for Giving had been cancelled due to the game's inability to create custom games reliably in a tournament environment.
The 2016 Halo World Championship prize pool was raised to $2.5 million via REQ packs, similar to the Compendiums sold to raise the prize pool of Valve's Dota 2 tournament, "The International". It became the first tournament in the history of Halo esports to surpass $1 million, and saw Counter Logic Gaming crowned the champions, with a roster of Frosty, Lethul, Royal 2 and SnakeBite. Next year, in the 2017 Halo World Championship, Optic Gaming (formerly known as CLG) repeated and won again.