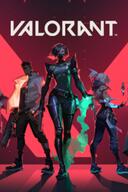 VALORANT
Prize Money Awarded:
$15,521,500.08
From 870 Tournaments
Recorded Date Range:
2020-04-09 to
---
---
Valorant is a team-based tactical shooter and first-person shooter developed and published by Riot Games. The game was referred to as "Project A" when it was first announced in October 2019. The gameplay is comparable to Counter-Strike: Global Offensive by Valve.
Largest Prize Pools
|   | Tournament Name | Prize Money |
| --- | --- | --- |
| 1. | » VALORANT Champions 2021 | $1,000,000.00 |
| 2. | » VALORANT Champions 2022 | $1,000,000.00 |
| 3. | » VCT 2021: Stage 3 Masters - Berlin | $690,000.00 |
| 4. | » VCT 2022: Stage 1 Masters - Reykjavík | $675,000.00 |
| 5. | » VCT 2022: Stage 2 Masters - Copenhagen | $650,000.00 |
| 6. | » VALORANT Champions Tour 2021: Reykjavík | $600,000.00 |
| 7. | » VCT 2022: Game Changers Championship | $500,000.00 |
| 8. | » VCT 2022: EMEA Stage 1 Challengers | $219,332.00 |
| 9. | » VCT 2022: EMEA Stage 2 Challengers | $211,400.00 |
| 10. | » VCT 2022: NA Stage 2 Challengers | $200,000.00 |
| 11. | » VCT 2022: North America Stage 1 Challengers | $200,000.00 |
| 12. | » VRL 2022: Finals | $153,528.00 |
| 13. | » GlitchCon 2020 Super Team Showdown - VALORANT | $151,752.55 |
| 14. | » VCT 2021: Europe Stage 1 Masters | $150,000.00 |
| 15. | » VCT 2021: North America Stage 1 Masters | $150,000.00 |
| 16. | » VCT 2022: APAC Stage 1 Challengers | $150,000.00 |
| 17. | » VCT 2022: APAC Stage 2 Challengers | $150,000.00 |
| 18. | » VCT 2021: EMEA Stage 2 Challengers Finals | $105,837.60 |
| 19. | » VCT 2021: Korea Stage 1 Masters | $104,423.00 |
| 20. | » VCT 2021: EMEA Stage 3 Challengers Playoffs | $100,038.42 |
| 21. | » First Strike Europe | $100,000.00 |
| 22. | » First Strike Korea | $100,000.00 |
| 23. | » First Strike North America | $100,000.00 |
| 24. | » Red Bull Home Ground #3 | $100,000.00 |
| 25. | Valorant India Invitational | $100,000.00 |
Top Players
|   | Player ID | Player Name | Total (Game) |
| --- | --- | --- | --- |
| 1. | crashies | Austin Roberts | $153,650.00 |
| 2. | Victor | Victor Wong | $152,650.00 |
| 3. | FNS | Pujan Mehta | $150,760.00 |
| 4. | Marved | Jimmy Nguyen | $149,150.00 |
| 5. | yay | Jaccob Whiteaker | $139,440.00 |
| 6. | saadhak | Matias Delipetro | $118,560.37 |
| 7. | Sacy | Gustavo Rossi | $116,168.48 |
| 8. | ShahZaM | Shahzeb Khan | $114,807.14 |
| 9. | dapr | Michael Gulino | $113,907.14 |
| 10. | zombs | Jared Gitlin | $113,550.00 |
| 11. | SicK | Hunter Mims | $113,507.14 |
| 12. | BONECOLD | Santeri Sassi | $111,090.37 |
| 13. | cned | Mehmet Yağız İpek | $108,690.16 |
| 14. | starxo | Patryk Kopczyński | $107,413.70 |
| 15. | nAts | Ayaz Akhmetshin | $107,265.09 |
| 16. | Chronicle | Timofey Khromov | $107,026.98 |
| 17. | d3ffo | Nikita Sudakov | $106,250.74 |
| 18. | Sheydos | Bogdan Naumov | $106,240.88 |
| 19. | TenZ | Tyson Ngo | $104,754.65 |
| 20. | Redgar | Igor Vlasov | $104,186.75 |
| 21. | ardiis | Ardis Svarenieks | $104,028.82 |
| 22. | Kiles | Vlad Shvets | $103,950.85 |
| 23. | zeek | Aleksander Zygmunt | $101,830.47 |
| 24. | pANcada | Bryan Luna | $98,680.09 |
| 25. | Rb | Goo, Sang-min | $96,785.29 |
Online/LAN Breakdown
| Location | Prize Money | % of Total |
| --- | --- | --- |
| Online Only | $9,222,736.10 | 59.42% |
| Offline/LAN | $6,298,763.98 | 40.58% |
Comparisons
Top Countries
|   | Country Name | Prize Money |
| --- | --- | --- |
| 1. | United States | $2,960,433.30 |
| 2. | Brazil | $1,212,991.22 |
| 3. | Korea, Republic of | $1,116,966.41 |
| 4. | Russian Federation | $1,030,468.27 |
| 5. | Canada | $989,115.95 |
| 6. | Turkey | $771,604.72 |
| 7. | United Kingdom | $505,695.61 |
| 8. | Thailand | $505,551.73 |
| 9. | Japan | $463,460.32 |
| 10. | Chile | $460,262.77 |