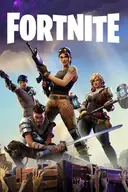 Fortnite
Prize Money Awarded:
$149,643,742.13
From 1164 Tournaments
Recorded Date Range:
2018-02-17 to
---
---
Fortnite is a third-person online Battle Royale action game launched as an early-access title, developed by Epic Games and People Can Fly. The game was released for Microsoft Windows, macOS, PlayStation 4 and Xbox One on July 25, 2017.
Fortnite was originally launched as "Fortnite: Save the World", a co-op sandbox survival game with four players working towards a common objective on various missions. On September 26, 2017, a separate stand-alone free-to-play version of the game called "Fortnite Battle Royale" was released. It moves away from the co-op elements of the game in favor of a Battle Royale game-mode for up to 100 players to fight in increasingly-smaller spaces to be the last person standing.
Fortnite Battle Royale is the game used in Fortnite esports. Epic Games provided $100 million for Fortnite esports tournament prize pools in the first year of competitive play, with the Fortnite World Cup happening in 2019. As a Battle Royale game, Fortnite is a direct competitor to PUBG, Call of Duty: Warzone, and Apex Legends.
Top Players
|   | Player ID | Player Name | Total (Game) |
| --- | --- | --- | --- |
| 1. | Bugha | Kyle Giersdorf | $3,486,995.05 |
| 2. | Aqua | David Wang | $2,172,224.23 |
| 3. | psalm | Harrison Chang | $1,874,588.80 |
| 4. | EpikWhale | Shane Cotton | $1,709,558.99 |
| 5. | Anas | Anas El-Abd | $1,543,705.00 |
| 6. | Nyhrox | Emil Bergquist Pedersen | $1,541,195.69 |
| 7. | Wolfiez | Jaden Ashman | $1,354,228.07 |
| 8. | Kreo | Nate Kou | $1,239,359.74 |
| 9. | Rojo | Dave Jong | $1,215,143.33 |
| 10. | Zayt | Williams Aubin | $1,206,706.42 |
| 11. | Saf | Rocco Morales | $1,206,237.02 |
| 12. | Ceice | Davis McClellan | $1,171,565.47 |
| 13. | k1nG | Thiago Bautista Lapp | $1,119,900.00 |
| 14. | Elevate | Hayden Krueger | $992,233.20 |
| 15. | TaySon | Tai Starčič | $909,579.00 |
| 16. | Skite | Clément Danglot | $868,564.02 |
| 17. | Mitr0 | Dmitri Van de Vrie | $816,474.81 |
| 18. | Arkhram | Diego Lima | $780,978.35 |
| 19. | Th0masHD | Thomas Høxbro Davidsen | $772,020.00 |
| 20. | Chapix | Moussa Faour | $725,108.34 |
| 21. | Crue | Theo Ferrer | $721,350.00 |
| 22. | Mongraal | Kyle Jackson | $704,304.23 |
| 23. | Hen | Henrik Mclean | $699,623.34 |
| 24. | Queasy | Aleksa Cvetkovic | $693,470.00 |
| 25. | JannisZ | Jannis Matwin | $692,065.88 |
Online/LAN Breakdown
| Location | Prize Money | % of Total |
| --- | --- | --- |
| Online Only | $103,802,963.44 | 69.37% |
| Offline/LAN | $45,840,778.69 | 30.63% |
Comparisons
| | |
| --- | --- |
| » Dota 2 | -$162,645,290.02 |
| » Counter-Strike: Global Offensive | +$3,705,172.68 |
| » League of Legends | +$50,862,547.62 |
| » PLAYERUNKNOWN'S BATTLEGROUNDS | +$97,304,539.07 |
| » Apex Legends | +$131,936,029.12 |
| » Free Fire | +$135,071,709.20 |
| » Call of Duty: Warzone | +$138,774,020.96 |
| » H1Z1 | +$147,576,620.13 |
Top Countries
|   | Country Name | Prize Money |
| --- | --- | --- |
| 1. | United States | $43,675,537.05 |
| 2. | United Kingdom | $6,971,959.36 |
| 3. | France | $6,629,364.62 |
| 4. | Denmark | $5,883,401.47 |
| 5. | Canada | $5,619,340.17 |
| 6. | Brazil | $4,923,602.18 |
| 7. | Germany | $4,223,344.24 |
| 8. | Sweden | $3,843,458.48 |
| 9. | Poland | $3,217,878.87 |
| 10. | Austria | $3,192,462.15 |