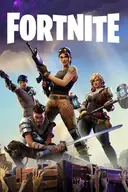 Fortnite
Prize Money Awarded:
$111,159,316.05
From 748 Tournaments
Recorded Date Range:
2018-02-17 to
---
---
Fortnite is a third-person online battle-royale action game launched as an early-access title, developed by Epic Games and People Can Fly. The game was released for Microsoft Windows, macOS, PlayStation 4 and Xbox One on July 25, 2017.
Fortnite was originally launched as "Fortnite: Save the World", a co-op sandbox survival game with four players working towards a common objective on various missions. On September 26, 2017, a separate stand-alone free-to-play version of the game called "Fortnite Battle Royale" was released. It moves away from the co-op elements of the game in favor of a battle royale game-mode for up to 100 players to fight in increasingly-smaller spaces to be the last person standing.
Fortnite Battle Royale is the game used in Fortnite esports, and is a direct competitor to PLAYERUNKNOWN'S BATTLEGROUNDS (PUBG). Epic Games announced that they will be providing $100 million for Fortnite esports tournament prize pools in the first year of competitive play, and the Fortnite World Cup will be coming in 2019.
Top Players
|   | Player ID | Player Name | Total (Game) |
| --- | --- | --- | --- |
| 1. | Bugha | Kyle Giersdorf | $3,162,545.05 |
| 2. | Aqua | David Wang | $1,993,174.23 |
| 3. | psalm | Harrison Chang | $1,873,538.80 |
| 4. | Nyhrox | Emil Bergquist Pedersen | $1,538,395.69 |
| 5. | EpikWhale | Shane Cotton | $1,354,667.32 |
| 6. | Wolfiez | Jaden Ashman | $1,349,828.07 |
| 7. | Kreo | Nate Kou | $1,221,159.74 |
| 8. | Rojo | Dave Jong | $1,214,643.33 |
| 9. | Zayt | Williams Aubin | $1,200,806.42 |
| 10. | Saf | Rocco Morales | $1,166,312.02 |
| 11. | Ceice | Davis McClellan | $1,117,155.47 |
| 12. | k1nG | Thiago Lapp | $1,021,000.00 |
| 13. | Elevate | Hayden Krueger | $992,233.20 |
| 14. | Skite | Clément Danglot | $861,264.02 |
| 15. | Mitr0 | Dmitri Van de Vrie | $797,124.81 |
| 16. | Crue | Theo Ferrer | $719,450.00 |
| 17. | Mongraal | Kyle Jackson | $691,204.23 |
| 18. | Bizzle | Timothy Miller | $635,226.39 |
| 19. | Arkhram | Diego Lima | $611,316.68 |
| 20. | Tfue | Turner Tenney | $597,100.00 |
| 21. | stompy | Klaus Konstanzer | $557,121.94 |
| 22. | BenjyFishy | Benjy David Fish | $550,806.29 |
| 23. | Nayte | Nathan Berquignol | $540,310.77 |
| 24. | ZexRow | Anthony Colandro | $507,949.73 |
| 25. | Dubs | Daniel Walsh | $483,924.99 |
Online/LAN Breakdown
| Location | Prize Money | % of Total |
| --- | --- | --- |
| Online Only | $68,955,778.44 | 62.03% |
| Offline/LAN | $42,203,537.61 | 37.97% |
Comparisons
| | |
| --- | --- |
| » Dota 2 | -$166,318,684.60 |
| » Counter-Strike: Global Offensive | -$17,831,306.34 |
| » League of Legends | +$21,118,043.07 |
| » PLAYERUNKNOWN'S BATTLEGROUNDS | +$68,177,958.64 |
| » H1Z1 | +$109,092,194.05 |
Top Countries
|   | Country Name | Prize Money |
| --- | --- | --- |
| 1. | United States | $37,025,995.19 |
| 2. | France | $5,960,487.78 |
| 3. | United Kingdom | $5,233,935.12 |
| 4. | Canada | $4,087,774.46 |
| 5. | Denmark | $3,180,479.80 |
| 6. | Sweden | $3,077,570.14 |
| 7. | Netherlands | $2,965,812.87 |
| 8. | Austria | $2,938,014.34 |
| 9. | Germany | $2,929,607.49 |
| 10. | Norway | $2,825,592.54 |