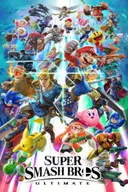 Super Smash Bros. Ultimate
Prize Money Awarded:
$1,029,392.24
From 821 Tournaments
Recorded Date Range:
2018-12-08 to
---
---
Super Smash Bros. Ultimate is a fighting game for the Nintendo Switch released in 2018. Like its predecessors Super Smash Bros. for Wii U and Super Smash Bros. Melee, Ultimate features gameplay unique from that of other fighting games. Compared to characters in other fighting games, Smash characters have simple movesets and lacked complex button inputs and lengthy combos. The gameplay focused on movement and knocking your opponent out of the arena. Ultimate includes returning characters previous Super Smash Bros. games, and several newcomers, having over 70 playable characters to choose from.
Largest Prize Pools
| | Tournament Name | Prize Money |
| --- | --- | --- |
| 1. | » Smash Ultimate Summit (Singles) | $51,995.72 |
| 2. | » Ultimate Summit 2 Singles | $50,440.00 |
| 3. | » Evo 2019 (SSBU) | $35,340.00 |
| 4. | Thunder Smash | $28,240.00 |
| 5. | » Super Smash Con 2019 (SSBU Singles) | $27,080.00 |
| 6. | » GENESIS 6: Ultimate | $21,050.00 |
| 7. | » Smash 'N' Splash 5 (SSBU Singles) | $16,000.00 |
| 8. | Ultimate Gamer | $15,000.00 |
| 9. | WNFOC 2.6 | $15,000.00 |
| 10. | Sky Ultimate Invitational | $12,500.00 |
| 11. | » Frostbite 2019 (Singles) | $12,390.00 |
| 12. | » Pound 2019: Ultimate (Singles) | $12,030.00 |
| 13. | » CEO 2019 (SSBU) | $11,640.00 |
| 14. | » Albion 4 (SSBU singles) | $11,187.03 |
| 15. | » Super Smash Con 2019 (SSBU Doubles) | $10,820.00 |
| 16. | » The Big House 9 (SSBU Singles) | $10,170.00 |
| 17. | » DreamHack Atlanta 2019 (SSBU Singles) | $10,000.00 |
| 18. | » DreamHack Dallas 2019 (SSBU Singles) | $10,000.00 |
| 19. | » DreamHack Montreal 2019 (SSBU Singles) | $10,000.00 |
| 20. | MomoCon 2019 (SSBU Singles) | $10,000.00 |
| 21. | » Super Splat Bros (Singles) | $10,000.00 |
| 22. | Thunder Smash 3 | $10,000.00 |
| 23. | AoTTGRC Presents: Super Smash Championship | $9,650.00 |
| 24. | » Get On My Level 2019 (SSBU Singles) | $9,435.35 |
| 25. | » EGLX 2019: Rising Stars (SSBU Singles) | $8,836.87 |
Top Players
| | Player ID | Player Name | Total (Game) |
| --- | --- | --- | --- |
| 1. | MKLeo | Leonardo Perez | $109,636.90 |
| 2. | Dabuz | Samuel Buzby | $49,419.69 |
| 3. | Glutonny | William Belaid | $41,576.13 |
| 4. | Samsora | Ezra Morris | $39,123.34 |
| 5. | Marss | Tyler Martins | $36,798.72 |
| 6. | Tweek | Gavin Dempsey | $35,054.83 |
| 7. | Nairo | Nairoby Quezada | $21,505.42 |
| 8. | Light | Paris Ramirez | $21,347.97 |
| 9. | ESAM | Eric Lew | $19,841.85 |
| 10. | VoiD | James Makekau-Tyson | $18,078.71 |
| 11. | MVD | Jestise Negron | $14,398.95 |
| 12. | Salem | Saleem Young | $14,001.50 |
| 13. | Zackray | Okada, Sota | $11,985.26 |
| 14. | Ally | Elliot Carroza-Oyarce | $11,630.66 |
| 15. | Myran | Robert Herrin | $10,616.85 |
| 16. | MuteAce | Antony Hoo | $9,852.68 |
| 17. | Maister | Enrique Hernández Solís | $9,137.68 |
| 18. | Greil | Habib Trabelsi | $8,681.52 |
| 19. | Raito | Ishiguro, Tetsuya | $8,395.34 |
| 20. | Cosmos | Brian Kalu | $8,345.89 |
| 21. | Tea | - - | $8,063.88 |
| 22. | Meru | Mehrdad Mehrafar | $7,353.80 |
| 23. | Elegant | Matt Fitzpatrick | $6,765.25 |
| 24. | Larry Lurr | Larry Holland | $6,627.53 |
| 25. | Dark Wizzy | Rasheen Rose | $6,381.34 |
Online/LAN Breakdown
| Location | Prize Money | % of Total |
| --- | --- | --- |
| Online Only | $27,233.07 | 2.65% |
| Offline/LAN | $1,002,159.17 | 97.35% |
Top Countries
| | Country Name | Prize Money |
| --- | --- | --- |
| 1. | United States | $541,852.91 |
| 2. | Mexico | $127,655.42 |
| 3. | France | $106,509.58 |
| 4. | Canada | $50,726.70 |
| 5. | Japan | $42,698.53 |
| 6. | Germany | $27,186.67 |
| 7. | United Kingdom | $27,143.61 |
| 8. | Netherlands | $22,707.56 |
| 9. | Spain | $9,193.95 |
| 10. | Austria | $8,699.63 |