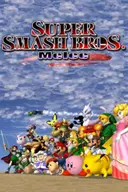 Super Smash Bros. Melee
Prize Money Awarded:
$3,006,924.07
From 2532 Tournaments
Recorded Date Range:
2002-04-06 to
Super Smash Bros. Melee, often shortened to "SSBM" or "Melee", is a fighting game for the Nintendo GameCube. It was released in America and Japan shortly after GameCube's launch in late 2001, and early 2002 in Europe. Like its predecessor, Melee features gameplay unique from that of other fighting games. Compared to characters in other fighting games, Smash characters have simple movesets and lacked complex button inputs and lengthy combos. The gameplay focused on movement and knocking your opponent out of the arena.
While Melee mainly follows the same formula introduced in its predecessor, several differences exist between the two games; improved physics, the addition of sidestep-dodging, air-dodging, wavedashing, etc. Melee is considered by many to be the best Smash game in the series, and despite the release of newer titles like Super Smash Bros. for Wii U with more participants and bigger cash prize pools, the Melee scene remains very strong.