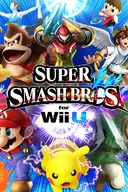 Super Smash Bros. for Wii U
Prize Money Awarded:
$1,515,451.47
From 1035 Tournaments
Recorded Date Range:
2014-10-07 to
---
---
Super Smash Bros. for Wii U, often called "Smash 4", is a fighting game for the Nintendo Wii U released in 2014. Like its predecessors, Smash 4 features gameplay unique from that of other fighting games. Compared to characters in other fighting games, Smash characters have simple movesets and lacked complex button inputs and lengthy combos. The gameplay focused on movement and knocking your opponent out of the arena.
The gameplay was designed to be a middle-ground between the faster, more competition-oriented Super Smash Bros. Melee and the slower and random Super Smash Bros. Brawl. While Melee is widely considered to be the best Smash game in the series, Smash 4 has overtaken it in tournament participants and cash prize pools. Despite that, event organizers usually host Melee and Smash 4 tournaments side-by-side, with many of the best Smash players registering for both.
Largest Prize Pools
|   | Tournament Name | Prize Money |
| --- | --- | --- |
| 1. | 2GGC | $50,000.00 |
| 2. | » GameTyrant Expo 2017 (SSB Wii U Singles) | $30,000.00 |
| 3. | » Evo 2016 (SSB4) | $26,620.00 |
| 4. | » Battle for Vegas (Wii U) | $25,000.00 |
| 5. | » 2GGC: Civil War (Singles) | $22,530.00 |
| 6. | » 2GGC: Nairo Saga (Singles) | $19,850.00 |
| 7. | » Evo 2015 (SSB4) | $19,260.00 |
| 8. | » Super Smash Con (SSB4 Singles) | $17,440.00 |
| 9. | » UGC Smash Open (SSB4 Singles) | $17,020.00 |
| 10. | » Super Smash Con 2017 (SSB Wii U Singles) | $15,310.00 |
| 11. | » Evo 2017 (SSB4) | $15,080.00 |
| 12. | » Apex 2015 (SSB4 Singles) | $15,055.00 |
| 13. | » Super Smash Con 2018 (Wii U Singles) | $13,800.00 |
| 14. | » 2GGT: ZeRo Saga (Singles) | $13,700.00 |
| 15. | » Evo 2018 (SSB4) | $13,580.00 |
| 16. | » Super Smash Con 2016 (SSB Wii U Singles) | $13,503.00 |
| 17. | » Genesis 3 (SSB4 Singles) | $10,930.00 |
| 18. | » Genesis 4 (SSB4 Singles) | $10,320.00 |
| 19. | » Smash 'N' Splash 4: Wii U Singles | $10,270.00 |
| 20. | » 2GGC: Civil War (Crew Battle) | $10,000.00 |
| 21. | » DreamHack Atlanta 2017 (SSB Wii U) | $10,000.00 |
| 22. | » Dreamhack Atlanta 2018 (Wii U Singles) | $10,000.00 |
| 23. | » DreamHack Austin 2017 (SSB Wii U Singles) | $10,000.00 |
| 24. | » DreamHack Austin 2018 (SSB Wii U Singles) | $10,000.00 |
| 25. | » DreamHack Denver 2017 (SSB4) | $10,000.00 |
Top Players
|   | Player ID | Player Name | Total (Game) |
| --- | --- | --- | --- |
| 1. | ZeRo | Gonzalo Barrios | $171,320.02 |
| 2. | MKLeo | Leonardo Perez | $99,607.00 |
| 3. | Nairo | Nairoby Quezada | $95,384.89 |
| 4. | Ally | Elliot Carroza-Oyarce | $75,162.60 |
| 5. | Dabuz | Samuel Buzby | $73,586.67 |
| 6. | Larry Lurr | Larry Holland | $47,515.89 |
| 7. | Salem | Saleem Young | $47,056.18 |
| 8. | Tweek | Gavin Dempsey | $40,229.16 |
| 9. | Mr. R | Ramin Delshad | $38,153.93 |
| 10. | VoiD | James Makekau-Tyson | $34,094.26 |
| 11. | ESAM | Eric Lew | $31,261.55 |
| 12. | ANTi | Jason Bates | $28,300.46 |
| 13. | Marss | Tyler Martins | $21,639.47 |
| 14. | Komorikiri | Furukawa, Rei | $21,015.97 |
| 15. | Abadango | Kawamura, Yuta | $20,564.89 |
| 16. | Mew2King | Jason Zimmerman | $19,908.36 |
| 17. | tamim | Tamim Omary | $17,645.85 |
| 18. | Elegant | Matt Fitzpatrick | $17,469.21 |
| 19. | MVD | Jestise Negron | $15,569.91 |
| 20. | CaptainZack | Zack Lauth | $14,658.77 |
| 21. | Fatality | Griffin Miller | $14,208.20 |
| 22. | Samsora | Ezra Morris | $12,995.19 |
| 23. | Zinoto | Julian Carrington | $11,889.88 |
| 24. | Cosmos | Brian Kalu | $11,260.75 |
| 25. | Lima | Bharat Chintapall | $10,324.33 |
Online/LAN Breakdown
| Location | Prize Money | % of Total |
| --- | --- | --- |
| Online Only | $2,635.00 | 0.17% |
| Offline/LAN | $1,512,816.47 | 99.83% |
Comparisons
| | |
| --- | --- |
| » Super Smash Bros. Melee | -$2,599,339.18 |
| » Super Smash Bros. Ultimate | -$1,177,428.77 |
| » Ultra Street Fighter IV | +$697,056.85 |
| » Super Smash Bros. Brawl | +$1,267,350.64 |
| » Project M | +$1,310,159.38 |
| » Super Smash Bros. | +$1,435,631.42 |
Top Countries
|   | Country Name | Prize Money |
| --- | --- | --- |
| 1. | United States | $879,917.51 |
| 2. | Chile | $171,396.32 |
| 3. | Canada | $115,135.52 |
| 4. | Mexico | $111,458.53 |
| 5. | Japan | $85,845.94 |
| 6. | Netherlands | $47,602.01 |
| 7. | France | $23,368.03 |
| 8. | United Kingdom | $21,158.09 |
| 9. | Germany | $16,186.81 |
| 10. | Spain | $13,209.72 |