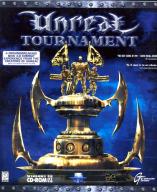 Unreal Tournament
Prize Money Awarded:
$89,000.00
From 5 Tournaments
Recorded Date Range:
2000-09-18 to
Unreal Tournament (commonly called Unreal Tournament '99 or UT99 to differentiate from later games) is a first-person shooter developed by Epic Games and Digital Extremes. It was first published in 1999 by GT Interactive for PC. The game is a spin-off of Unreal, focusing on competitive multiplayer action instead of a single-player story campaign.