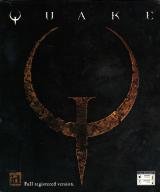 QuakeWorld
Prize Money Awarded:
$103,551.67
From 17 Tournaments
Recorded Date Range:
1997-06-19 to
---
---
QuakeWorld (abbreviated QW) is an update to id Software's seminal multiplayer deathmatch game, Quake, that enhances the game's multiplayer features (namely UDP support) to allow people with dial-up modems to achieve greatly improved responsiveness when playing on Internet game servers. Modern broadband connections such as cable and DSL can use the QW model of network handling and game physics.
The gameplay of Quake and QuakeWorld differs from its successors, Quake II, Quake III Arena and Quake Live. While those games were notable for their weapon balance, QuakeWorld's defining characteristic was its weapon imbalance. One player was in control and had to maintain it by depriving the other player while hunting them down. The other player had to use limited resources to outwit and outplay their opponent without directly fighting them to order to retake control.
Largest Prize Pools
|   | Tournament Name | Prize Money |
| --- | --- | --- |
| 1. | » QuakeCon 2016 (QuakeWorld 2v2) | $25,000.00 |
| 2. | » PGL Season 3 (Quake Clans) | $22,000.00 |
| 3. | » CPL 4-Year Anniversary Event | $15,000.00 |
| 4. | » PGL Season 1 | $15,000.00 |
| 5. | » CPL Event Dallas | $6,500.00 |
| 6. | » QuakeCon 2017: QuakeWorld Duel | $5,000.00 |
| 7. | Red Annihilation | $5,000.00 |
| 8. | Quakecon at home 2020 | $4,168.00 |
| 9. | » DreamHack Winter 2008 (QuakeWorld 2v2) | $2,775.07 |
| 10. | » Quakecon 2019: QuakeWorld Duel Tournament | $1,200.00 |
| 11. | QuakeWorld Duel Showdown 2018 | $566.94 |
| 12. | Hymn of Hope: May Edition | $511.32 |
| 13. | Swedish QW OG Cup | $438.28 |
| 14. | » Organ Grinder #3: Skulker vs eb | $153.49 |
| 15. | » Organ Grinder #2: bps vs LocKtar | $146.48 |
| 16. | » Insomnia XVII (QuakeWorld - BYOC) | $55.09 |
| 17. | DMTW:QW | $37.00 |
Top Players
|   | Player ID | Player Name | Total (Game) |
| --- | --- | --- | --- |
| 1. | Thresh | Dennis Fong | $12,500.00 |
| 2. | Rikoll | Håkon Solberg | $6,255.66 |
| 3. | Locktar | - - | $6,244.62 |
| 4. | Milton | Joni Sivula | $6,000.00 |
| 5. | HarlsoM | Harley Gray | $5,000.00 |
| 6. | Reptile | Jim Dangcil | $4,000.00 |
| 7. | Carapace | Erik Åhman | $3,500.00 |
| 8. | RiX | Dan Hammans | $3,500.00 |
| 9. | Locust | Niclas Wideving | $3,451.47 |
| 10. | Core | - - | $3,000.00 |
| 11. | bps | Jon Cednert | $2,196.94 |
| 12. | czm | Paul Nelson | $2,000.00 |
| 13. | Dirtbox | Marcus Cooke | $2,000.00 |
| 14. | Gollum | Tom Dawson | $2,000.00 |
| 15. | Unholy | Jason Carlton | $2,000.00 |
| 16. | Thump4 | Jeffrey M. | $1,950.00 |
| 17. | GT | Luiz Augusto Coelho | $1,542.00 |
| 18. | FienD | Jeff Abbott | $1,500.00 |
| 19. | Xoque | Michael Wifall | $1,200.00 |
| 20. | B2 | Patrick Li | $1,100.00 |
| 21. | Fatal1ty | Johnathan Wendel | $1,000.00 |
| 22. | Lord Vadar | Jason Allen | $1,000.00 |
| 23. | Bogojoker | - - | $875.00 |
| 24. | ZeRo4 | John Hill | $800.00 |
| 25. | Apocolypse | Drew Gorbonos | $500.00 |
Online/LAN Breakdown
| Location | Prize Money | % of Total |
| --- | --- | --- |
| Online Only | $5,546.23 | 5.36% |
| Offline/LAN | $98,005.44 | 94.64% |
Comparisons