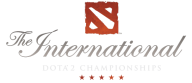 The International 2013: Dota 2 Championships
Location:
Seattle, Washington, USA
The International Dota 2 Championship is the world's largest Dota 2 tournament, based on prize pool. This event is the third tournament to bear the name 'The International.' It is commonly referred to as "The International 3" or "TI3".
Valve announced The International 2013 on April 25, 2013. It again is to be hosted at the Benaroya Hall in Seattle from August 7 to 11. The first team to be invited were the defending champions, Invictus Gaming. Sixteen teams are to participate, thirteen of which will receive invitations, and the final three being decided in two qualifying tournaments and a match at the start of the tournament.
On May 6, it was announced that an interactive compendium would be available for purchase, detailing and cataloging the progression of The International, in addition to allowing for extensive interactivity to be made. A quarter of the revenue from the compendium would be added to the prize pool for the tournament, thereby extending the winnings of the participating teams. Via the sales of interactive compendiums, The International reclaimed its previous title as the largest prize pool in electronic sports history, exceeding the two million dollar prize pool from the League of Legends Season 2 World Championship.
Tournament Results
---
Prize Money By Country
---
References