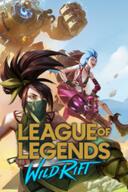 League of Legends: Wild Rift
Prize Money Awarded:
$8,326,779.92
From 101 Tournaments
Recorded Date Range:
2021-02-18 to
---
---
League of Legends: Wild Rift (abbreviated as LoL: WR) is a MOBA game developed and published by Riot Games. The game was released for Android and iOS. Mobile games like Wild Rift are more popular in Asia where mobile phones are much more accessible than PCs or game consoles.
As a mobile MOBA game, Mobile Legends is a direct competitor to Mobile Legends: Bang Bang.
Top Players
|   | Player ID | Player Name | Total (Game) |
| --- | --- | --- | --- |
| 1. | Y1ze | Zhang, Yize | $158,359.35 |
| 2. | Long | An, Xulong | $157,489.83 |
| 3. | Remake | Ma, Zhengyue | $157,489.83 |
| 4. | Yami | Tang, Zhiqang | $155,939.49 |
| 5. | 0711 | Yu, Hong | $147,288.06 |
| 6. | Fadou | Zhang, Shijun | $147,288.06 |
| 7. | Yezi | Ke, Zhi | $147,288.06 |
| 8. | Nian | Wei, Haojin | $127,079.09 |
| 9. | Ley | Yue, Yi | $120,610.06 |
| 10. | ScarL | Wu, Weixin | $106,666.67 |
| 11. | Sunset | Xia, Longxing | $90,237.14 |
| 12. | Dawn128 | He, Xiaolong | $79,638.58 |
| 13. | Pan | Pan, Shaohuang | $79,638.58 |
| 14. | Berry | Luo, Junyao | $71,788.58 |
| 15. | dy | Jin, Chaoyi | $71,788.58 |
| 16. | Malefic | Luo, Zhixin | $67,771.67 |
| 17. | Chao | Zhang, Junchao | $57,858.06 |
| 18. | Xiaoma | Ma, Juntao | $57,858.06 |
| 19. | Uu | Wang, GuHao | $54,664.67 |
| 20. | Acolyte | Unai Seoane | $53,580.72 |
| 21. | Andreszed | Andrés Liu | $53,580.72 |
| 22. | Doki | Zhao, Kedeng | $53,385.50 |
| 23. | Jiujiu | Zhao, Pengyuan | $53,385.50 |
| 24. | Lemon | Wu, Xinglei | $53,385.50 |
| 25. | Cherry | Nong, Dingji | $53,333.33 |
Online/LAN Breakdown
| Location | Prize Money | % of Total |
| --- | --- | --- |
| Online Only | $2,195,686.59 | 26.37% |
| Offline/LAN | $6,131,093.33 | 73.63% |
Top Countries
|   | Country Name | Prize Money |
| --- | --- | --- |
| 1. | China | $3,369,707.37 |
| 2. | Viet Nam | $753,651.88 |
| 3. | Taiwan, Republic of China | $559,682.00 |
| 4. | Philippines | $499,449.22 |
| 5. | Korea, Republic of | $490,899.51 |
| 6. | Brazil | $433,280.01 |
| 7. | Thailand | $428,227.07 |
| 8. | United States | $228,241.24 |
| 9. | Japan | $199,872.71 |
| 10. | Spain | $166,770.33 |