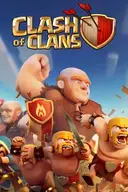 Clash of Clans
Prize Money Awarded:
$4,471,027.87
From 65 Tournaments
Recorded Date Range:
2017-10-12 to
---
---
Clash of Clans is a free-to-play mobile strategy video game developed and published by Finnish game developer Supercell. The game is set in a fantasy-themed persistent world where the player is a chief of a village. Clash of Clans tasks players to build their own village using the resources gained from attacking other player's villages with troops; earning rewards, buying them with medals or by producing them at their own village.
Top Players
|   | Player ID | Player Name | Total (Game) |
| --- | --- | --- | --- |
| 1. | GAKU | - - | $144,371.67 |
| 2. | yuta14 | - - | $144,371.67 |
| 3. | Klaus | - - | $132,705.00 |
| 4. | Lenaide | Valentin Rozel | $111,051.00 |
| 5. | Ast | Anton Röyskö | $104,350.00 |
| 6. | BuMm | Kang, SangBum | $104,350.00 |
| 7. | Jojo23 | Jonas Gohl | $104,350.00 |
| 8. | STARs | - - | $91,905.00 |
| 9. | Vale | Valentin Becker | $91,410.00 |
| 10. | stadra | - - | $83,366.67 |
| 11. | Kazuma | - - | $68,505.00 |
| 12. | JUAN | - - | $66,000.00 |
| 13. | Eryam | Léo Valéry | $64,113.25 |
| 14. | Synthé | Laudry Billard | $64,113.25 |
| 15. | Wei | - - | $61,000.00 |
| 16. | TryHard | Valentin Wagner | $53,852.00 |
| 17. | Youzi Pi | - - | $51,500.00 |
| 18. | Cronos | - - | $50,720.00 |
| 19. | Excosist | - - | $50,720.00 |
| 20. | Nebrax | - - | $50,595.00 |
| 21. | Mok | -, - | $50,050.00 |
| 22. | Chixin | -, - | $50,000.00 |
| 23. | Jone | -, - | $50,000.00 |
| 24. | Lp | - - | $50,000.00 |
| 25. | Qiang Ren | -, - | $50,000.00 |
Online/LAN Breakdown
| Location | Prize Money | % of Total |
| --- | --- | --- |
| Online Only | $1,643,926.00 | 36.77% |
| Offline/LAN | $2,827,101.87 | 63.23% |
Top Countries
|   | Country Name | Prize Money |
| --- | --- | --- |
| 1. | Japan | $842,250.02 |
| 2. | Germany | $674,890.02 |
| 3. | China | $559,049.99 |
| 4. | France | $422,760.00 |
| 5. | Korea, Republic of | $314,500.00 |
| 6. | Brazil | $200,376.85 |
| 7. | Spain | $180,817.50 |
| 8. | Finland | $108,350.00 |
| 9. | Taiwan, Republic of China | $97,700.00 |
| 10. | United States | $60,162.25 |