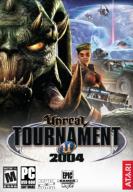 Unreal Tournament 2004
Prize Money Awarded:
$133,969.33
From 12 Tournaments
Recorded Date Range:
2004-07-07 to
Unreal Tournament 2004 (abbreviated to UT2004 and UT2K4) is a futuristic first-person shooter designed mainly for competitive multiplayer action. It is part of the Unreal Tournament series of games, and is a sequel to Unreal Tournament 2003. The game features all of the content of its predecessor, replacing it on store shelves and in tournaments.
Unreal Tournament 2004's gameplay mechanics offer multiple ways of movement including double-jumping, dodge-jumping, wall-dodging and shield-jumping.