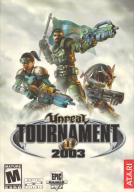 Unreal Tournament 2003
Prize Money Awarded:
$147,473.91
From 14 Tournaments
Recorded Date Range:
2002-11-04 to
---
---
Unreal Tournament 2003 (abbreviated to UT2003) is a first-person shooter designed mainly for competitive multiplayer action. The game is part of the Unreal series of games, and is a sequel to Unreal Tournament (UT99). The addition of the 2003 to the name was an attempt to market the game similar to sports games, though the only other game in the series to adopt this was it's sequel, Unreal Tournament 2004.
Largest Prize Pools
|   | Tournament Name | Prize Money |
| --- | --- | --- |
| 1. | » WCG 2003 (UT2003) | $35,000.00 |
| 2. | » CPL Winter 2002 (UT2003) | $30,000.00 |
| 3. | » ESWC 2003 (UT2003) | $20,000.00 |
| 4. | » ClikArena 2003 (UT2003 TDM) | $15,199.05 |
| 5. | » WCG National 2003 (UT2003) | $14,000.00 |
| 6. | » IVGF Northwest Regional (Unreal) | $12,500.00 |
| 7. | » Campus Party 2003 (UT2003) | $9,457.36 |
| 8. | EUSKAL 11 | $5,617.50 |
| 9. | » NVision LAN 2008 (UT3) | $1,700.00 |
| 10. | » CPL Winter 2002 California Qualifier (UT2003) | $1,000.00 |
| 11. | » CPL Winter 2002 Georgia Qualifier (UT2003) | $1,000.00 |
| 12. | » CPL Winter 2002 NY Qualifier (UT2003) | $1,000.00 |
| 13. | » CPL Winter 2002 Texas Qualifier (UT2003) | $1,000.00 |
| 14. | » AMD PG Challenge Summer 2003 (UT2003) | $0.00 |
Top Players
|   | Player ID | Player Name | Total (Game) |
| --- | --- | --- | --- |
| 1. | ForresT | Nicola Geretti | $21,605.00 |
| 2. | Lauke | Laurens Pluymaekers | $17,910.00 |
| 3. | Fatal1ty | Johnathan Wendel | $13,000.00 |
| 4. | GitzZz | Christian Höck | $7,000.00 |
| 5. | Alcachofo | - - | $6,629.38 |
| 6. | Infinite | Andre Anbarchian | $6,000.00 |
| 7. | zulg | Björn Sunesson | $5,500.00 |
| 8. | cpense | Caleb Pense | $5,000.00 |
| 9. | Snoop | Dominic Lewandowski | $5,000.00 |
| 10. | roach | Martijn Nuijens | $3,500.00 |
| 11. | Apoca | - - | $2,814.69 |
| 12. | Esca | Busby Haris | $2,500.00 |
| 13. | stryfe | - - | $2,500.00 |
| 14. | Lotus | Aaron Everitt | $2,000.00 |
| 15. | Solo | Michael Thiele | $1,750.00 |
| 16. | pMcc | Pierre-Marie Charavel | $1,602.50 |
| 17. | ImageOmega | Chris Kuntz | $1,500.00 |
| 18. | MrFrost | - - | $1,500.00 |
| 19. | 47 | - - | $1,250.00 |
| 20. | Drew | Andrew Warren | $1,125.00 |
| 21. | Tex | Nick Borrelli | $1,125.00 |
| 22. | Subi | - - | $1,013.29 |
| 23. | LoSt-CaUsE | Rafik Bryant | $1,000.00 |
| 24. | Vai | Mark Manson | $1,000.00 |
| 25. | Virtu | - - | $1,000.00 |
Online/LAN Breakdown
| Location | Prize Money | % of Total |
| --- | --- | --- |
| Online Only | $0.00 | 0.00% |
| Offline/LAN | $147,473.91 | 100.00% |
Comparisons