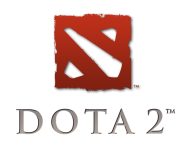 Image Information
Details
Official logo for the free-to-play game "Dota 2".
License Information
License:
None (Fair Use/Fair Dealing)
This image is copyrighted. However, it is asserted that by using a cropped, low-resolution version of the image, it is believed to be covered under fair use/fair dealing laws for the purposes outlined below:

- The page(s) in which the image is used provides education & research value about the entity depicted in the image.
- The image is used as the primary means of visual identification of the player, tournament, event or organization.
- The image is a cropped, low-resolution version, and is not suitable for other purposes.
- The image is not used in a way that a viewer would think the related page(s) are endorsed by the copyright holder.
- No alternative image of comparable educational value is usable or accessable at this time.