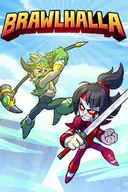 Brawlhalla
Prize Money Awarded:
$3,612,341.09
From 641 Tournaments
Recorded Date Range:
2015-07-25 to
---
---
Brawlhalla is a 2D platform fighter and 100% Free to Play. An eternal battle arena where the greatest Legends ever brawl to prove who is the best that ever was, is, or will be. Every match is an epic test of skill, speed, and strength, and every victory brings glory and bragging rights to the winner.
Top Players
|   | Player ID | Player Name | Total (Game) |
| --- | --- | --- | --- |
| 1. | Sandstorm | Stephen Myers | $211,006.17 |
| 2. | Boomie | Zack Bielamowicz | $203,707.67 |
| 3. | Acno | Denis M. | $126,064.00 |
| 4. | luna | Jonathan S | $95,896.66 |
| 5. | Godly | Zivai Manhotoma | $94,383.33 |
| 6. | simpLe | Marvin Richter | $85,196.67 |
| 7. | Snowy | - - | $77,778.33 |
| 8. | Fiend | Lucas Ferreira | $76,851.67 |
| 9. | Blaze | Axel V | $73,667.83 |
| 10. | Cody Travis | Cody Travis | $71,625.84 |
| 11. | Wess | Wesley Jean | $66,462.55 |
| 12. | Phazon | Vincent Riese | $65,274.17 |
| 13. | wrenchd | Zachary Gundersen | $54,551.25 |
| 14. | Impala | - - | $54,480.00 |
| 15. | Pavelski | Pavel Milev | $52,244.00 |
| 16. | Remmy | Ngwa Nforsi | $51,717.50 |
| 17. | Pugsyxd | Yoni Rotem | $51,498.18 |
| 18. | LDZ | Zack Janbay | $48,930.67 |
| 19. | noeL | Noel Rosario | $47,862.47 |
| 20. | Power | Alan Alvarez | $46,688.34 |
| 21. | Addymestic | Aleksi Sillanpää | $46,417.15 |
| 22. | Fozey | Oliver Persson | $46,293.40 |
| 23. | Blew | Morten Hansen | $44,421.67 |
| 24. | Sting Ray | - - | $41,225.00 |
| 25. | Macheeeete | Derain Bastien | $40,501.67 |
Online/LAN Breakdown
| Location | Prize Money | % of Total |
| --- | --- | --- |
| Online Only | $2,769,993.79 | 76.68% |
| Offline/LAN | $842,347.30 | 23.32% |
Top Countries
|   | Country Name | Prize Money |
| --- | --- | --- |
| 1. | United States | $1,525,650.26 |
| 2. | Brazil | $374,230.13 |
| 3. | Germany | $263,865.01 |
| 4. | Sweden | $208,861.69 |
| 5. | Canada | $187,121.82 |
| 6. | United Kingdom | $154,897.88 |
| 7. | France | $154,680.82 |
| 8. | Australia | $137,938.45 |
| 9. | Netherlands | $81,246.58 |
| 10. | Singapore | $60,555.00 |