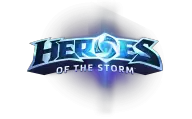 Image Information
Details
"Blizzard Mark" for Heroes of the Storm™.

Heroes of the Storm is a trademark of Blizzard Entertainment, Inc., in the U.S. and/or other countries.
Credits
Name:
Blizzard Entertainment
License Information
License:
Copyright Holder's Usage Policy
The copyright holder has outlined conditions and/or restrictions in which the image can be used by third parties without requiring explicit permission from them.